Hey guys,
I haven't mentioned anything on my blog about Christmas in July so I'm going to give you a quick spill about it. Alyx came up with the idea of having a huge international gift exchange on a whim earlier this month and she is making it happen! There are a couple of IMPORTANT dates you should take note of if you are considering participating:
SIGN UP DATES>>May 28th-June 20th
LAST DAY TO OPT OUT>> June 20th
ADDRESS ASSIGNED>> June 21st-June 27th
MAILING/PICTURE DUE>> July 13th
HUGE GIFT REVEAL/LINK UP>> July 25th
1. If you're participating take a button and place it on your sidebar! We want to spread the word to as many bloggers as we can so that they can join in on the fun!
2. If you decide that you aren't going to participate for ANY reason, please contact us no later than June 20th. We don't want to have someone not receive a gift, that would be so sad!
3. The monetary value of the present should be no more than $20 and no less than $10.
4. If you're an international blogger, we will make sure to give you a blogger on the same continent to reduce shipping costs.
5. Please send a picture of your wrapped present to christmasinjuly12@gmail.com by July 13th so that we know no one will be left out on July 25th!
6. Once you recieve your package, prepare a blog post about it! There will be a huge link up on July 25th!
7. If you have any questions feel free to
contact us
!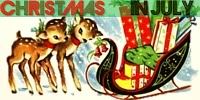 SIGN UP